You will find on this page a great variety of meditation retreats and events that we organised year-round in Europe. All these events are suitable both for beginners or advanced meditators. If you speak French, you may also want to visit the French version of this program, to find our retreats held in French only.
---
Upcoming Events 2022.23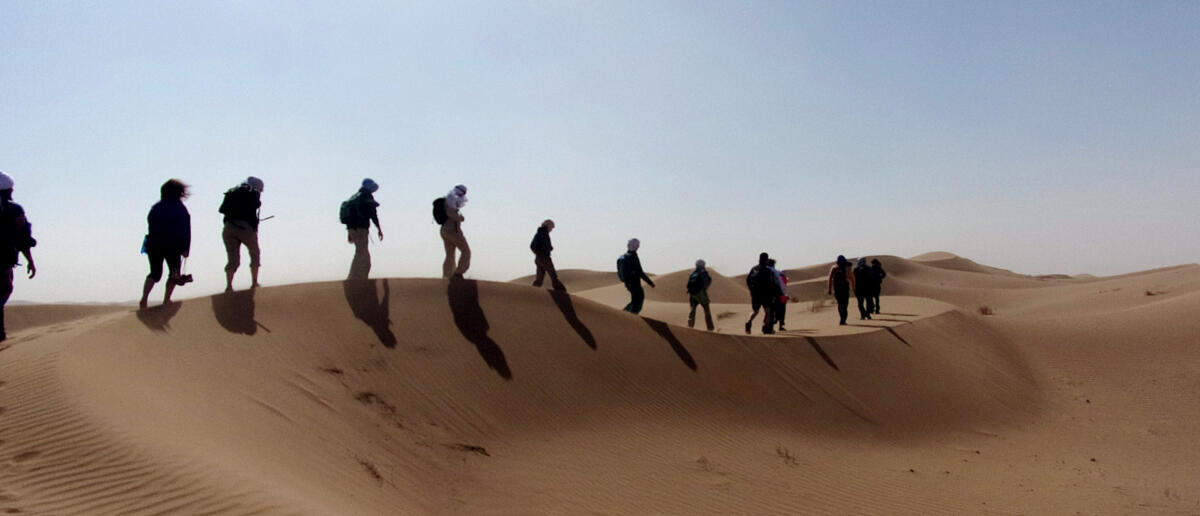 During 9 days, accompanied by camels, we will immerse ourselves in the Moroccan Sahara. We will let ourselves be touched by this desert, a world of breathtaking beauty. The harmonious bareness of the sand dunes that undulate as far as the eye can see will awaken in us the love of simplicity. The desert, through its relentless language, reawakens in us the knowledge of a pure timeless joy. To accompany this song of the soul, our meditations will be supported by teachings on self-knowledge, emptiness and letting go – all three being aspects of one and the same thing. Plus d'info >>
We're very happy to announce that the Dharma Yatra is planned, after 3 years of hibernation!

  (Fr+Eng) The Dharma Yatra is an annual 10 day walking meditative pilgrimage in the South of France. Each year around 150 people join the Yatra to live lightly on the earth. Each day we walk silently for around 5 hours, and by night we camp in tents beneath the stars. The purpose of the Dharma Yatra is revealed in its name. Read more >>
(Fr+Eng) Holidays amongst meditation lovers, held besides a river in the Parc naturel du Haut Languedoc. Apart from silent mornings and sharing groups, there is no fixed program and no teachings and we decide together what we want to make of these holidays. Read more >>
---
Ongoing Invitations

(Fr+Eng) A couple retreat, or with your family, or with a group of friends, that is real luxury! Sharing some silence and meaningful discussions with those you love, exploring
meditation together, can deepen your relationship ! We can organise this with you, at any time in the year, in a comfortable guest house, or in camping. read more…. Read more >>