(Fr+Eng) Holidays amongst meditation lovers, held besides a river in the Parc naturel du Haut Languedoc. Apart from silent mornings and sharing groups, there is no fixed program and no teachings and we decide together what we want to make of these holidays.
SANGHA HOLIDAY
 2024
Parc Naturel du Haut Languedoc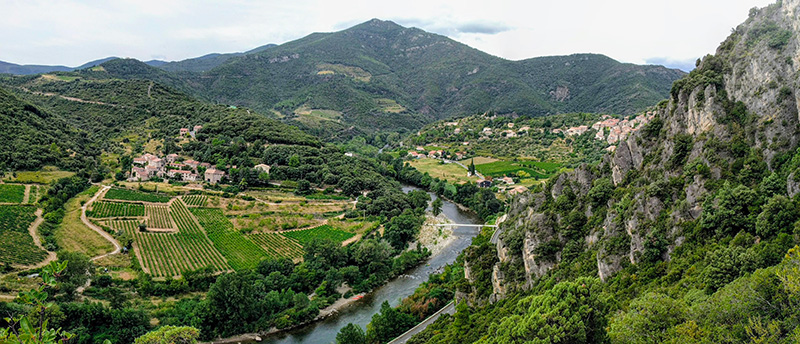 The Sangha Holiday was born from the desire to spend holidays amongst meditators. It is a wonderful opportunity for exploring the dharma together in a very free context. Outside of respecting the silent mornings and attending to the sharing groups, nothing is expected. As a group we decide meditation times, kitchen organisation, optional workshops, etc. The various tasks necessary to the smooth running of these holidays get spontaneously shared between participants. Discussions on dharma themes happen spontaneously.
It takes place in the beautiful Parc Naturel du Haut Languedoc, on a nice sandy area next to a beautiful river, and surrounded by mountains. It's a favorite place of many dharma friends! The food is great, mainly local and organic, and is fully vegetarian.
PRICE
The price of the Sangha Holiday had not changed for more than 10 years. During this time, a lot of work has been done on the land (showers, toilets, water system,…) and the rent has increased. As the price of food has increased as well, we decided to raise the price to:
adults: 21€/day (189€ for 1 period)
From 9 to 16 years old: 13€/day (117€ for 1 period)
From 3 to 8 years old: 10€/pay (90€ for 1 period)
As usual, the organisational work will be remunerated on a donation basis. Your participation in this is precious, it allows us to go on dedicating ourselves to the organising of such events. However, if your budget doesn't allow you to bring us this support, don't hesitate to come. Your presence is what counts for us ! Discover the philosophy of the donation.
REGISTRATION
Things have changed here too! For a few years, it has been difficult for us to maintain registration without a deposit. We notice more and more last minute cancellations, changes of periods, hesitations, which makes the management of this kind of event difficult. Therefore we have  decided to ask for a non refundable deposit at registration.
To know if there is still some space and to register, send an email to sanghaholiday@gmail.com
Once registered, you can, read this letter to organize your trip
TESTIMONIALS
"Since I did my first six month silent retreat nearly 25 years ago, I have been on an annual quest to find that elusive retreat to stretch and challenge my practice anew.
Well… this year – 2013 – I found a belter in the Languedoc hills of Southern France.
Here Denis and friends have created a really radical innovation.
No schedule. No bells (just a delightful flute coaxes you out of the tent at daybreak). No rotas or work programme… just an optimistic trust that all that needs to be done shall be done… And if not…??? a chance to explore together what it is to assume responsibility for our lives (and perhaps more important assume a free-will affirmation of responsibility for our practice.)
Dawn breaks to find everyone in a chosen spot sprinkled casually, without compunction, amongst the trees; or alone together under the tarp that is the flying roof of the meditation hall…. Or in my case on a rock by the riverside catching the first glint of a sparkling ripple that announces the dawning of a new day.
After a delicious veggie lunch the conversation is more engaged, but without that frantic gabbiness that can follow the lifting of retreat silence, as the group splits into twos and fews to walk and share together; or jump in the river.
What's so radical about that? I would say that many of us experienced a particular depth of practice that might arise from a discipline that comes from within rather than in compliance with an external diktat (however well intentioned).
Perhaps also it is a pointer for me to see how to 'Integrate Practice With Daily Life' – by just getting on and doin' it. Isn't that a bit radical?"
Pete sketchley, from Holland
"The sangha holiday in Vieussan in 2010 was the first time I have ever really been on holiday. It was truly wonderful. I can't decide on my favourite moment but the magical camping spot by the river, the trees, the constant picnic of sangha friends on the rug, the water jug, Ellaya's story with Kristien and Peter's music, rock jumping, a sneaky aperitif at the blue lizard in the sunset hearing Tom's tales of the fall of the Berlin wall, moonlit singing-improvisations in the wind by the river, Milan's peach curry, getting my feet and hip massaged at the same time without even expecting or hoping, my delicious romance, the amazing goat cheese, the sharing circle, my fellow river-swimmers who made it all so special, the spirit, kindness, peace and love of it all. I have rarely felt such joy!"
Kate Olivia Higginbottom, from England
"A harmonious, supportive and respectful attitude which allowed a relaxed and non-pressured situation to arise and be enjoyed. just as one would wish a holiday, indeed all of life, to be."
with gratitude & love
Beka, from England
"For me the sangha holiday was a chance to stop and relax. a chance to be free and spontaneous, a chance to let nature lead the motion of life and naturally charge whatever needs charging. all this having people around, experiencing sangha life in its simple and beautiful form. having a chance to be kind to myself, other people and the environment we are living in. But most of all, a chance to taste what a clear and calm mind feels like."
Thanks for making it happen."
with love
Etai, from Israel