WALKING IN SNOW
28 – 31 January & 31 January – 6 February 2021 | Spital am Phyrn, Austria
CANCELED

Meditation Retreats with Ski-touring and Snow-shoeing
The beauty of untouched nature covered with a blanket of snow combined with the depth of silence in a beautiful setting to get in touch with oneself, find some rest, feel alive and reconnect with what is really precious to us.
Snow-shoeing and ski touring are gentle ways to navigate through the quiet Alpine environment, and can lead us to a deep experience of our own rhythm, our body, our breathing and nature.
To enhance our felt sense of the beauty, the silence, and of our own presence, we will also have some daily programs including meditations and teachings.
TWO RETREATS
• From Thursday to Sunday for people who can only come for the Weekend and
• From Sunday to Saturday for one Week.
Please register before the 7th of December.
If you are interested in staying for both retreats, please contact us to discuss details.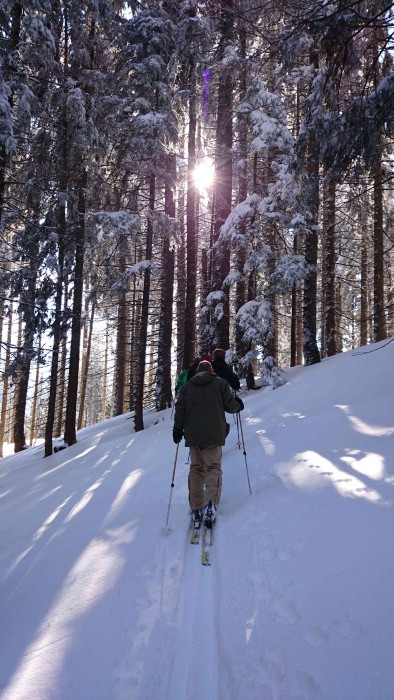 REQUIREMENTS
No experience is needed for meditation and snow-shoeing. If you wish to register for skiing, you need to have the basic skills (being able to turn and to stop…).
Ski-touring is quite different to cross-country skiing. We use "skins", which are stuck to the bottom of the ski to climb uphill. At the top of the hill, the skins are removed, and then we ski downhill. Snow-shoeing is another silent way of experiencing an alpine environment and does not involve skiing.
THE HOUSE
The Rohrauerhaus is situated at 1308 m above sea level in an untouched Alpine environment one hour walk away from the last road. It is the perfect place for a retreat : away from our digital lifes, without network coverage. Despite its simplicity it offers many conveniences such as delicious vegetarian food and a meditation room. It is well heated, even when temperatures outside drop below zero.
TEACHERS
Robert Kerneza will provide the technical know-how and safety support for this retreat. He's been climbing for over 40 years and works as a certified ski touring guide. With his vast knowledge of ski touring, weather and snow conditions, and his quiet mountain mentality he found a very spiritual relationship to nature and will lead groups on this subject.
Denis will lead the meditations, using the supportive context of being in this stunning wildness to explore ways to deepen our connection with what meditation really is.
PRICE
The participation fee: 215€ for Thursday to Sunday and 365€ Sunday to Saturday and covers only expenses. Additionally we will ask for Dana (a free donation for teachers and organizers, read about donation). Please contact us if you would like to come but your financial situation would prevent you from attending.
REGISTRATION & MORE INFORMATION
The registration will Open in Oktober 2020.
For more information write to BergSangha@posteo.at or visit us on Facebook.
You can also call Martin Michalitsch (+43 650 676 202 6)
TESTIMONIALS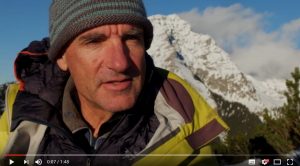 In the video Robert, our mountain guide, explains what is special for him about teaching at the Walking in Snow Retreat:
"I like it, when the spiritual path and the outdoor path come together."
"Silence makes a big difference, it brings a quality of 'going deeper'."
"Leaving and watching traces in the untouched snow , ourselves and Those of the animals. Exploring the silence. Observing the coming and going – of wind, of snow, of sun and of thoughts"
Nicole from Austria / France
"The group! Every single person in this group made the week special, warm and meaningful."
Kathelijne from the Netherlands
"It was an amazing and inspiring week, with many insights. The peaceful environment fits perfectly to the meditations and teachings."
Claudia from Austria
"The beautiful connection between skiing and meditation i.e. to BE in the NOW in silence and in moving. as it were. The ideal complementing of the two teachers, incredible! I 'm looking very much forward to returning next winter, I will definitely be there again and have already had two or three friends who decided to come as well after hearing my enthusiastic stories."
Brigitte from Austria
"Fresh air, fabulous scenery, warm hospitality, good food."
Patrice from France
"The combination of meditation and the skitouring walking in nature are simply a perfect blending together of two essential things: deeply looking inside and outside views into in a wonderful nature. Aside from that, I have enjoyed the teachings of a meditation teacher, experienced in many different techniques without the annoying religious extra stuff. I was also very positively surprised by Denis meditation experience but also his down to earth and refreshing style of teaching which always transfers easily into "normal" life. And not to forget the delicious food."
Ulli from Austria